Add Bruce Dreckman to Umpires behaving badly list
on
July 17th, 2006
at
5:50 am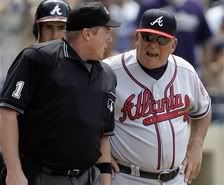 MLB Umpire Bruce Dreckman is a DICK and needs to be sent packing back to the minors where he can screw up International League game
Dreckman has long day in San Diego and has a long history of being less than admirable behind the plate and in the glare of being 'Blue'
by Mike Zimmer, Misses John McSherry
Major League Baseball needs to clean house again when it concerns their overly inflated egoed men in blue. Sunday's Atlanta Braves and San Diego Padres game apparently was a mess today after Home Plate Umpire Bruce Dreckman drew the eire of both benches today and once again pulled a mad-dog act. Dreckman is one of the umpires who feels compelled from time to time to be a hot-head and actually incite arguments with players and managers instead of keeping their cool and just calling the game.
Dreckman first got the Padres bench in an uproar when he was all over the place with his floating strike zone, something he has also crossed paths with Braves manager Bobby Cox over. Bruce Bochy and his staff on the Padres bench were then miffed when Dreckman failed to ask help from the 3rd base Ump on an apparent Chipper Jones check swing that would have been a 3rd strike. Thrid Base coach and bench coach Tony Muser and then Bochy were ejected when Dreckman went ape and all 3 had a heated argument at home plate where he tossed them both.
Photo Evidence: Dreckman in action spewing his temper at those who challenged him. "Don't challenge my Auth-thor-it-tie!!!!"
Dreckman then tossed Jeff Francouer in the 7th inning after a Veeeeeeeerrrrrrrry similar to the Chipper Jones check swing was quickly called a foul tip into the glove of the catcher for an out. Francouer insisted he never made contact–and was tossed. Dreckman than followed Francouer as he left the batters box in protest and ejected him upon the second year players reply was "kurt". This of course set Bobby Cox waddling towards home plate where he greeted Dreckman with some magic words and also got the gate. For Dreckman, this is the 3rd time this season already that he has tossed Cox (who leads the majors in ejections and always seems to get his say in without too much histrionics except for his "colorful" language that is often caught by the TBS on the field sound.).
Dreckman along with Tony Randazzo and others really need a leash put on them and their hot heads to be cooled and suspended when they insight arguments and chase ball players into ejections. Umpires should not be known until the end of the season when they are rewarded for their job well done and given slaps on the back and cushier assignments. And even then–the general public and fans shouldn't know them unless they are elected to the hall of fame or something.